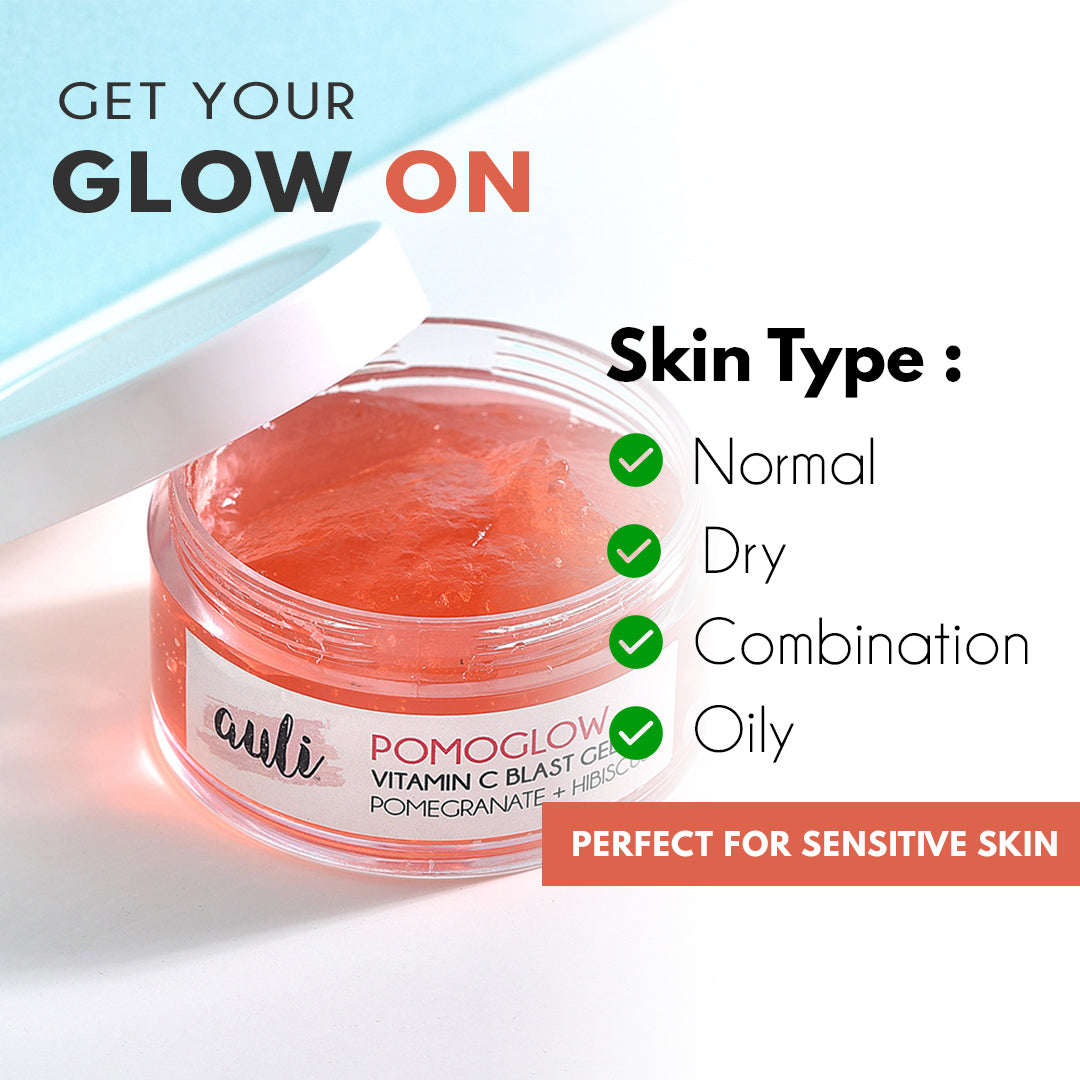 VITAMIN C HYDRATING GEL - POMOGLOW
Rs. 499.00 Rs. 374.25 (25% OFF)
Inclusive of all taxes
Extra ₹250 OFF on ₹799(code : FIRST250)
VITAMIN C BLAST GEL

This blend of Pomegranate Peel and Hibiscus Flower extract along with Aloe Vera and Vitamin C provides natural treatment for sun damage and free radicals. Rich in antioxidants, it repairs damage at a cellular level and reduces inflammation. With continued usage, this solution boosts collagen production and targets premature signs of aging. The non-sticky, light gel texture of the formula gets absorbed easily into the skin and you can see results instantly. It controls oil balance of the skin and locks the moisture into your skin to give you supple and healthy skin. You can get an added boost of freshness and brightness with PomoGlow.  
Ingredients:
Pomegranate Peel Extract + Hibiscus Flower Extract + Vitamin C + Turmeric + Aloe Vera + Trehalose + Aqua + Tocopheryl Acetate
Benefits:
Treats Sun Damage - The antioxidants present in Pomegranate Peel extract add natural protection from UV rays. It also repairs cellular damage and reduces inflammation to give you smooth and glowing skin. The antifungal properties of the solution prevent acne and naturally brighten skin tone.
Reverses Signs of Ageing - The ingredients in the formula helps to reduce age spots and wrinkles. By keeping the skin hydrated, PomoGlow fights fine lines and dark spots. By minimizing the appearances of pores, it tightens skin and gives it a youthful radiance. 
Smoothes Texture - Turmeric and Aloe Vera detoxify skin to soothe allergies and hydrate dry skin. It prevents breakouts and redness to give your skin a smoother texture. It heals spots and scars and even tones the skin. It also treats sun tanned skin and prevents dryness.
Hydrates - It contains a natural source of AHA, in Pomegranate Peel extract, which helps to keep the pores unclogged. Hydrated skin improves the overall skin tone and texture. 
Direction of Use:
Take a pea-sized amount of the product on to your palm and apply it after toning. Cover the surface of your face and neck to ensure that the product is evenly distributed. Follow it up with sunscreen in the daytime and facial oil at night. Apply it twice daily for optimum results. It can be used as a primer for make-up as well. Suitable for all skin types. 
Legal Metrology Info:
Marketed By: AULI LIFESTYLE
44A, SATISH MUKHERJEE ROAD, KOLKATA, Kolkata, West Bengal,
700026
Manufactured By: AURO PHARMA
NO.77, GANGAIAMMAN, KOIL STREET, VAITHIKUPPAM, PUDUCHERRY - 605012
Country of Origin - India
The MRP / selling price mentioned on products / listing is inclusive of all taxes.
The quantity (gm/ml) of the product is mentioned on the label/box.