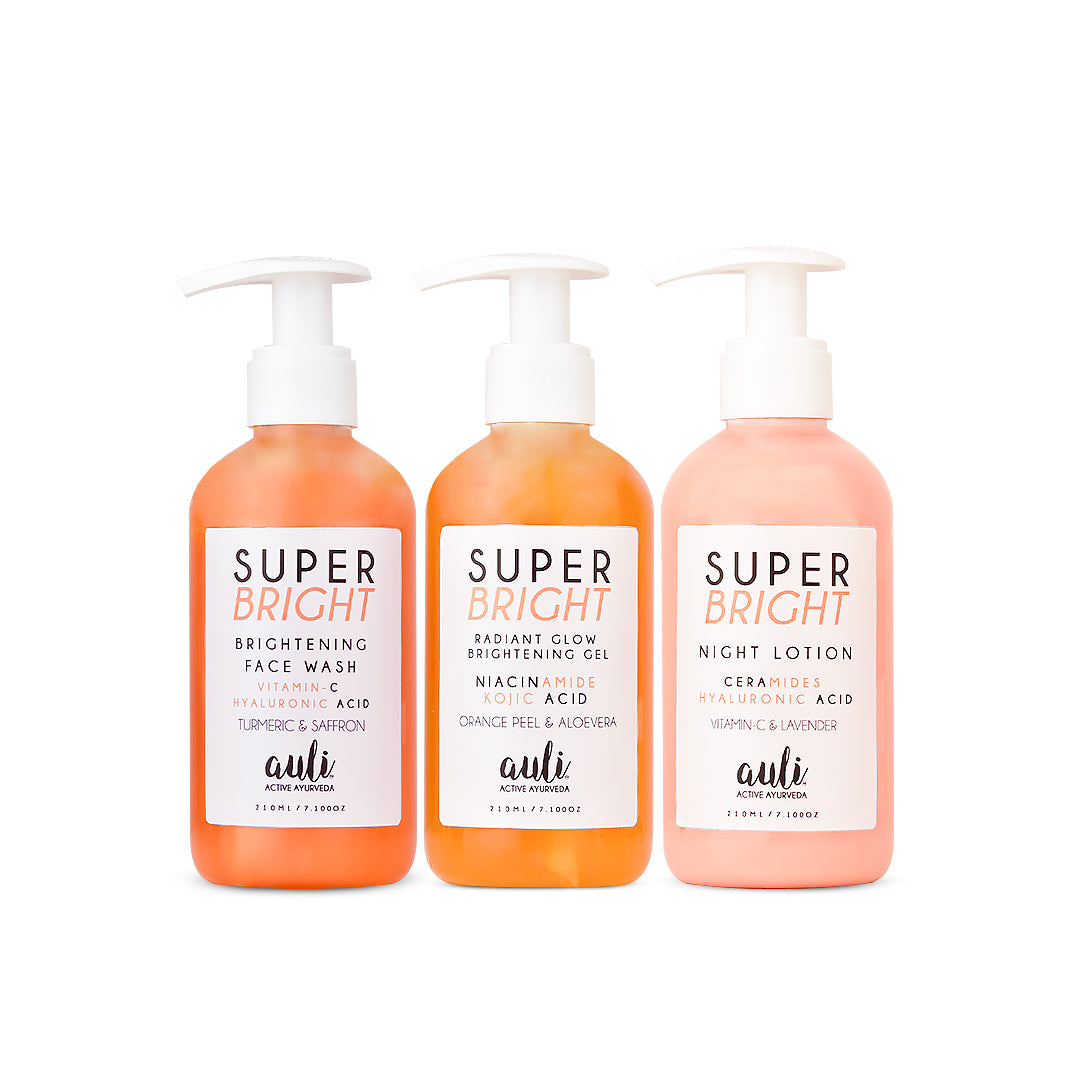 Ultimate Brightening Combination
Rs. 1,797.00 Rs. 999.00 (44% OFF)
Inclusive of all taxes
Extra ₹250 OFF on ₹799(code : FIRST250)
Description:
Introducing our latest skincare innovation, the Super Bright Range. Enriched with potent natural ingredients such as saffron, turmeric, and orange peel extract, this range is curated to revolutionize your skincare regimen. Elevate your skincare routine with our Super Bright Range,as your skin emerges brighter, more even-toned, and beautifully de-tanned in the embrace of natural radiance.
Super Bright Face wash 
Experience the radiance of our super bright face wash. This revitalizing formula gently cleanses while delivering a potent dose of Vitamin C, renowned for its skin-brightening benefits. Unveil a luminous complexion as you cleanse away impurities, leaving your skin refreshed, renewed, and visibly rejuvenated.
Super Bright Gel 
Elevate your skincare routine with our super bright gel, enriched with Hyaluronic Acid, Orange Peel Extract, Kojic Acid and Niacinamide. This transformative formula works tirelessly to de-tan and brighten your skin tone promoting a supple, radiant complexion
Super Bright Night Lotion
Elevate your PM skincare regimen with our super bright night lotion, carefully crafted with Ceramides, Hyaluronic Acid, and Vitamin C. As you sleep, this potent blend works harmoniously to replenish your skin's moisture barrier, infusing it with deep hydration and promoting a smoother texture.
Benefits: 
Anti-Inflammatory

Skin Brightening

Antioxidant Production

Collagen Production

Hydration

Strengthens Skin Barrier 

Fights Signs of Ageing
Use: 
Begin by cleansing with the Super Bright Face Wash, followed by the lightweight hydration of the Super Bright Hydrating Gel. Finish your routine by applying the Super Bright Lotion at night to rejuvenate and wake up to a luminous glow.