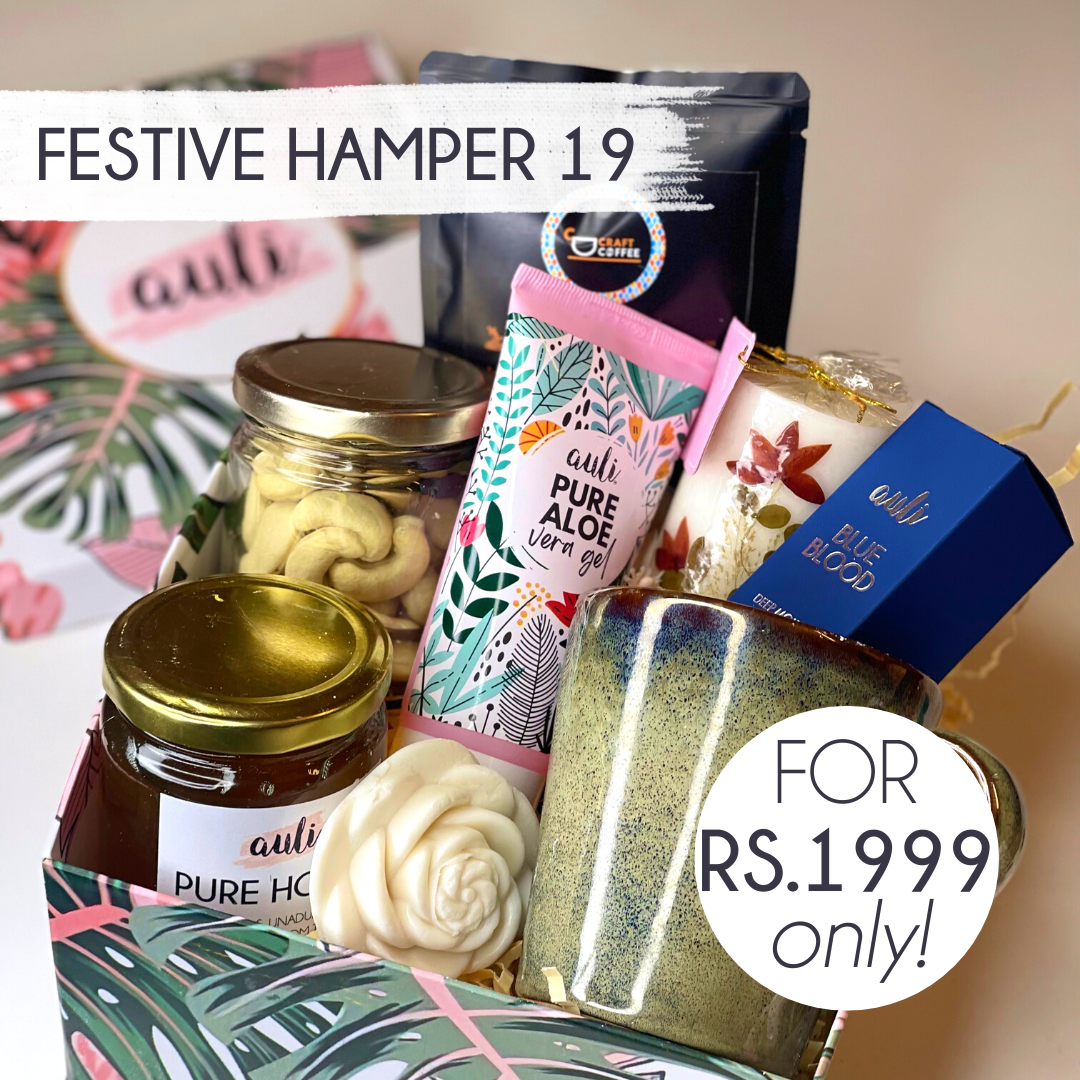 Rs. 1,999.00
Inclusive of all taxes
Extra ₹250 OFF on ₹799(code : FIRST250)
Description :- 
When crafting a gift, we must keep in mind how special that should make the one who receives it. Health, wellness and skincare are an integral part of an individual's day to day life and Auli values that.
A gift so personalised, it is bound to make the receiver feel special. Therefore we have cured this beautiful hamper of :- 
1. Pure Honey: from the farmlands of Sundarbans with zero added preservatives and sugar. The best alternative to sugar for a healthy living. 
2. Pure Aloe Vera Gel: Aloe vera is well-known for both its cosmetic and therapeutic benefits. It's no surprise that aloe extracts offer remarkable moisturising and skin-healing capabilities, given that aloe gel is made up of almost 96% water. Furthermore, the aloe vera plant is high in antioxidants and vitamins A, B, C, and E. This gel maintains your skin's health.
3. Blue Blood: This oil holds a component called 'Azulene' which is known to soothe dry or irritated skin, reduce the appearance of redness and leave the skin feeling more balanced. It is in fact a  6-in-1 glow oil that: 1. removes pigmentation and fine lines, 2. is formulated to melt facial fat cells, 3. is perfect for facial yoga and massage, 4. extracts oil and cleanses your pores deeply, 5. doubles as a pre-shave oil and 6. is the best pre makeup glow base.
4. Cashews: Cashew nuts are a popular snack choice for many. These delicious nuts are loaded with many beneficial nutrients. Cashews benefit your health in many ways. For instance, they manage blood pressure, aid in weight loss, and cut down the risk of various diseases. In addition, these nuts are rich in proteins, essential minerals, and vitamins that promote your body's healthy functioning.
5. Handmade Soap: for ultimate cleansing for your hand and body. It will keep your skin hydrates, plump and smooth. It does not dry your skin, like most soaps do.
6. Organic Coffee: This coffee comes from a single estate origin, with milk chocolate and grape fruit tasting notes. It is medium roast level and recommended for chemex & drip bags. It comes from the beautiful Nandipura Estate, and is 100% Arabica.
7. Handmade Coffee Mug from Khurja: Khurja pottery is traditional Indian pottery work manufactured in Khurja of the Bulandshahr district in Uttar Pradesh state, India. 
8. Handmade candle: to add light to your life, and that extra glow to your ambience.